Hi! I am Terry Dahling. I am building this site to help my family better understand what I did in Special Forces. I just realized that my family knows little of my career other than that I ate Marines and S.E.A.L.S. for breakfast. I was in Special Forces for fifteen years. During this time I served in Germany, Vietnam, Panama and Thailand. I even passed through Ft. Bragg, NC occasionally, enroute to another assignment. I attended The Defense Language Institute to study German and Spanish as well as the Berlitz School of Languages to learn Czech. I was SCUBA qualified and served on the Underwater Operations Detachments in Germany, Panama and Thailand.
I have many pictures of my time In Special Forces and will share them on this site.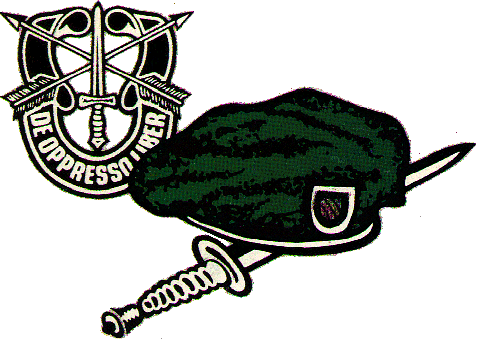 A note to begin with. Notice I said I was a member of the U.S. Army Special Forces. Some refer to us as "Green Berets". The beret is a type of headgear. We are professional soldiers who worked and fought hard for the right and honor to wear the Green Beret. The Green Beret became the official headgear of Special Forces in 1962 when authorized by President Kennedy. I am not a Green Beret; I earned the right to wear the Green Beret.