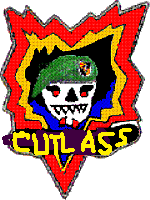 Our insertions were flown by VNAF Helicopter pilots. We flew in unmarked CH-34 helicopters code named "Kingbees". The Kingbee pilots were legendary in C&C -- especially two we called "Cowboy" and "Mustacio". They flew in near "zero ceiling" weather and without gunship support to extract teams. They hovered against steep hillsides and even used their rotor blades to "cut" through vegetation in order to get to the teams.
They had one aggravating and scary trait. They liked to fly in close formation with overlapping rotor blades. Once, two collided killing an entire team they were shuttling. More than once I would reach up and grab the pilot's foot trying to get him to "lighten up".
For a good article on the "Kingbees", click here:
Our area of operations was in North Central Laos. It was deep enough to be some what safer than sitting right on the "Ho Chi Minh" trail but close enough to observe and report activity. It wasn't so safe, however that we didn't take ground fire and have a few attempted insertions aborted.
Notice, that the area was far from un-inhabited. There were trails and fields throughout the area. They were, however, outside the direct influence of the Vietnamese. We were there to gather intelligence and recruit and train "trail watchers".
On one over flight we took some ground fire. I was sitting in the door and immediately jumped back in and took cover. I felt a little sheepish when I realized that the skin of the aircraft was too thin to stop a BB let alone 12.7 mm and 22 mm anti-aircraft fire.
On another outing we were met at the border by a couple of Huey Cobras. I waved to them and they left. Only later did I realize that they were there to escort or bring us down and our friendly waves probably saved us. There were reports of unmarked and unidentified aircraft in the Ben Het area. The NVA used tanks so why not helocopters. There we were in unmarked Kingbees and the pilots neglected to file flight plans and monitor their radios. Sometimes it pays to be friendly.